In this week's issue of LeadCrunch's Best in B2B Growth, we bring you a diverse set of articles about using SnapChat and Instagram to boost sales, content marketing ROI, and using live Video  This week's issue also features a blog post on using the Challenger Sale selling style.
Enjoy your week,
The LeadCrunch Team :: High precision B2B leads using artificial intelligence
@lead_crunch | 1-minute video | Try us for free | Subscribe to this newsletter
Curated content – summary
---
---
Curated content – detailed
4 Ways B2B Can Use Snapchat and Instagram by Sarah Patrick via Social Media Examiner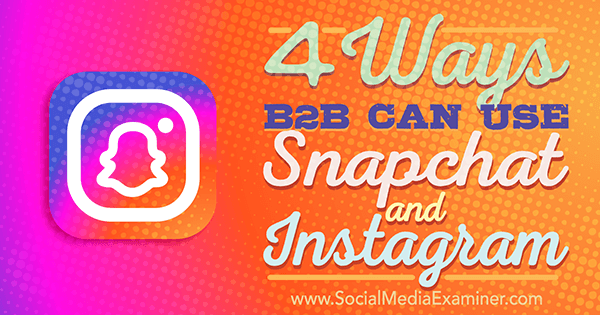 Unsure if your business can benefit from Snapchat or Instagram?
Wondering how other business-to-business (B2B) companies make use of these platforms?
There's no reason to limit B2B social media marketing to LinkedIn and Twitter.
In this article, you'll discover four ways you can use Snapchat and Instagram for business.
Content Marketing ROI: 4 Ways to Get Started by Andrea Fryrear via Content Marketing Institute 
Why B2B Marketers Should Experiment with Live Video by Dennis Shiao via CMS Wire
Content marketing is like economics: it's all about supply and demand.
In B2B, the demand for content is steady, while supply is exploding. With more blog posts, infographics and SlideShares created every minute, supply is far exceeding demand. In this sea of content, it's hard for your content to get noticed.
Except if you're in B2B and doing live video.
Stop Being a Whimp With Your Content and Discussion by Kristina Jaramillo via Marketing Insider Group
 I love creating challenger sales and marketing content. For example, my article "CMOs Are Failing to Go Beyond Brand Awareness," questions the actions of CMOs at organizations like Xerox, Wiley, Lithium, G2Crowd, and XOJet. And, in my recent series, I question the thoughts, ideas, actions and content of well-known LinkedIn marketing experts like Viveka von Rosen, social media experts like Jay Baer and David Meerman Scott and social selling experts like Kurt Shaver.
Which Sales Tools Help You Close Deals: Using the Challenger Sale Selling Style by Sanjit Singh via LeadCrunch
There are many different types of selling styles: The Challenger Sale, SPIN Selling, Conceptual Selling, SNAP Selling, Sandler Sales, and Customer Centric Selling, just to name a few. All these styles have something to offer.
But it's not possible to use all these styles and be successful. You have to choose one and go with it. So it's important to study the different types of selling and then decide which style is right for your company—a selling style that fits your company's goals and culture.
This article focuses on how LeadCrunch can help you sell if you use The Challenger Sale style of selling—a method of selling that's growing increasingly popular in B2B sales.
Enjoy your week!
The LeadCrunch Team :: High precision B2B leads using artificial intelligence
@lead_crunch | 1-minute video | Try us for free | Subscribe to this newsletter