In this week's issue of LeadCrunch's Best in B2B Growth, we bring you a diverse set of articles about B2B marketing trends to watch for 2017, proven strategies to increase ROI, and finding the best HR software. Craving more great informational content? This article also features one of our most watched webinars "How to Generate High Precision B2B Leads Using AI" with Steven Moody, President and CEO at Beachhead Marketing
Enjoy your week,
The LeadCrunch Team :: High precision B2B leads using artificial intelligence
@lead_crunch | 1-minute video | Try us for free | Subscribe to this newsletter
Curated content – summary
---
Rewatch one of our best webinars…
"How to Generate High Precision B2B Leads Using AI"
Steven Moody, President and CEO at Beachhead Marketing
Curated content – detailed
6 Significant No-Fluff Trends for B2B Marketing in 2017 by Sam Hurley via Sparklane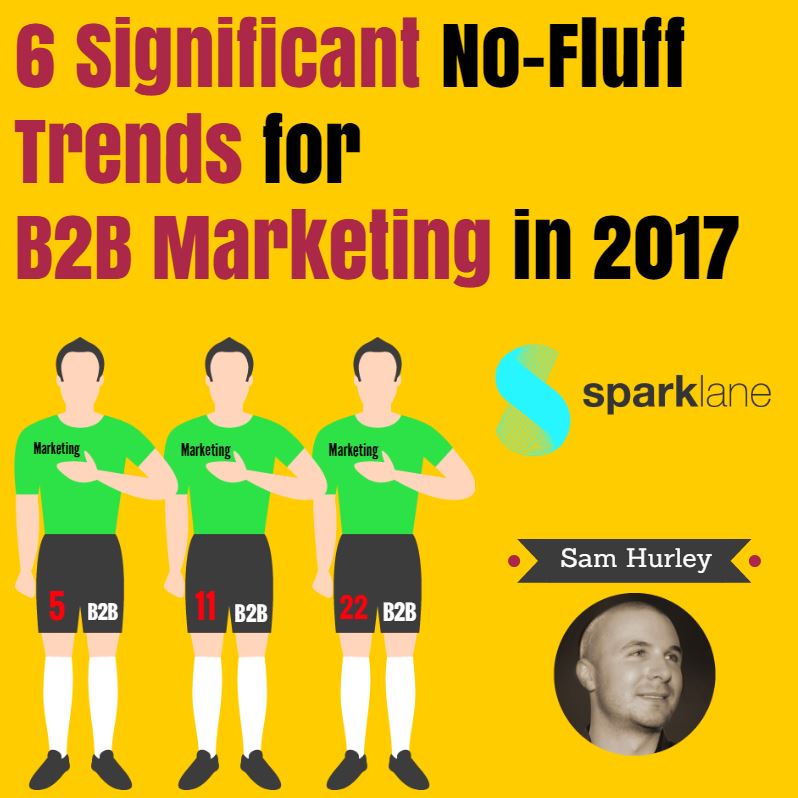 We are experiencing a monumental shift in B2B marketing trends. It's 2017 – the pace of change in technology, customer expectations and selling techniques can be tough to comprehend, let alone conquer…
Marketers and their brands are under ever-increasing pressure to deliver timely experiences that outsmart huge amounts of competition – attracting and retaining clientele, while also achieving a positive ROI.
B2B Content Marketing Trends in 2017 [Infographic] by Andrew Hutchinson
.Content marketing looks set to get increased focus across al sectors in 2017, and especially so in the B2B field.
According to a recent report by GroupM, total marketing services expenditures worldwide will pass the $1 trillion threshold for the first time in 2017, with 29%, on average, to be spent on content marketing. In addition, 39% percent of businesses are planning to increase their content marketing spend over the next twelve months.
To provide some more perspective on the latest content marketing trends in the B2B sector, Digital Marketing Philippines has put together this new infographic.
6 Proven Strategies for Increasing ROI on Your B2B Digital Marketing Strategy by Shama Hyder via LinkedIn
The internet has touched nearly every part of our day-to-day lives – and that, as B2B marketers know all too well, includes the purchasing process.
Gone are the days when a company had to learn everything they wanted to know about a supplier or vendor from a salesperson.
Now, companies can – and do – get most of their information from a website. They can eliminate vendors from their shortlists without even contacting them – which means that vendors may not even know they were ever in the running.
In fact, according to data from the Harvard Business Review, customers today are an average of 57 percent of the way through the purchase process before they engage with salespeople.
Four Powerful Groups of B2B Brand Advocates on Social Media, and Five Tools You Can Use by Jessica Davis via MarketingPro
Among the top challenges that B2B marketers face are building brand awareness, managing customer relations, and making do with limited marketing resources (human and otherwise); 21% B2B marketers also say they have an insufficient audience size on social media.
Using social advocacy could be a powerful way to tackle those challenges.
Fully 70% of B2B buyers use social media for pre-purchase research. Furthermore, social users trust recommendations from friends and family above all other sources, according to Edelman's Trust Barometer. Therefore, for B2B businesses, developing a strong advocacy system on social media could be a powerful way to build brand and drive sales.
So which of your social media connections are potential advocates, and how do you build an advocacy system around them?
Find the Best 2017 Human Resources Software by Rebecca Gatesman via LeadCrunch
No matter what industry you're in, you know that the most valuable asset your company has is its human resources. The living, breathing members of the team that makes your brand possible, from the top executives to the interns, are the value of your brand. Without your people, you'd have nothing.
If you're a prudent business owner, you've likely invested in your HR department for this very reason. After all, as the department in charge of maintaining employee happiness, and choosing new members, they deserve the best tools available.
Enjoy your week and have a fantastic New Year!
The LeadCrunch Team :: High precision B2B leads using artificial intelligence
@lead_crunch | 1-minute video | Try us for free | Subscribe to this newsletter