In this week's issue of LeadCrunch's Best in B2B Growth, we bring you a diverse set of articles about the next generation of influencer marketing, AI tools that will transform your B2B marketing operations, and account based marketing. Are you craving more great informational content? This article also features one of our most watched webinars "How to Generate High Precision B2B Leads Using AI" with Steven Moody, President and CEO at Beachhead Marketing
Enjoy your week,
The LeadCrunch Team :: High precision B2B leads using artificial intelligence
@lead_crunch | 1-minute video | Try us for free | Subscribe to this newsletter
Curated content – summary
---
Rewatch one of our best webinars…
"How to Generate High Precision B2B Leads Using AI"
Steven Moody, President and CEO at Beachhead Marketing
Curated content – detailed
The Next Generation of Influencer Marketing by Ellen Gomes via Marketo
  More and more marketers today are tapping into influencer marketing. Why? Because influencer marketing has the potential to act as a new, relationship-based channel to reach new audiences and build credibility with existing audiences.
From personal experience, influencer marketing can be a tough nut to crack. It's easy to fall into the trap of doing random acts of influencer marketing and not truly building a relationship or offering a value exchange to the people you identify as influencers in your space.
The Infographic That Will Revolutionize Your Approach toContent Creation by Michael Brenner
Here's an important question. When you come up with your content marketing strategy, do you consider the psychological impact of what content you choose? Taken even further, to what extent does psychology influence how you craft that content?
You probably took a course on consumer behavior in college but in practice, marketers tend to neglect the inner workings of the brain, paying more attention to the outer workings of society. SEO matters much more than the verbatim effect, for example – or does it?
Artificial Intelligence Tools That Will Transform Your B2B Marketing Operations by Carlos Gil via Business2Community
When you think of artificial intelligence (AI), do you imagine Will Smith battling humanoid robots? Well, think again…did you know that AI is already being applied in the Internet, helping you go about your daily life without drawing attention to itself?
Artificial intelligence simulates traditionally human processes like learning, reasoning and self-correction. Unlike traditional programs, AI-based applications don't need to be continually fed data or manually coded to make changes to their functionality and output. AI can be (and already is) immensely useful to B2B professionals in all industries.
Forget B2B and B2C – The Future of Marketing is B2i via Smart Insights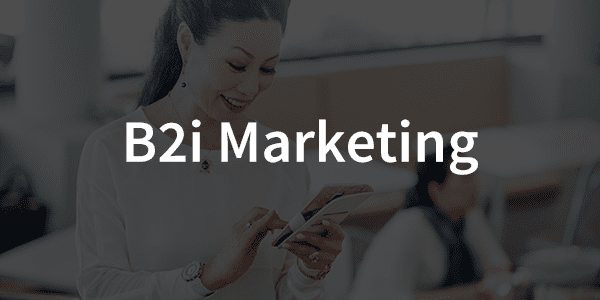 You've heard of B2B and B2C – But what about B2i? B2B marketers and strategists are quickly adopting this emerging trend that puts their businesses in direct contact with their clients' end-consumers: from business to individual.
As the world becomes more interconnected, businesses are beginning to understand that they must think beyond the needs of their immediate clients and consider their clients' clients as well. Sure, they still might sell directly to the CEOs, CIOs, and other C-suite executives. But their solutions must address their clients' core needs, which always go back to the individual consumer.
The Role Buyer Personas Play in Account Based Marketing by AJ Agrawal via LeadCrunch
Account based marketing (ABM) is a marketing strategy that is mainly defined by targeting a very narrow selection of key accounts within your company's audience. ABM stands in stark contrast to the usual wide net that B2B marketers tend to prefer, but it's proven again and again to be highly effective.
A major aspect of successful ABM is an in-depth understanding of a company's core markets, so that its efforts can be directed at those most likely to convert.
This approach means that an increasing number of brands are boosting their efforts to find out who their ideal prospects are. But the most successful brands do even more – they revitalize their buyer personas to reflect new data, and continue to build them out, instead of discarding them—an effort that works well.
Below we tell you why this approach works so well.
Enjoy your week and have a fantastic New Year!
The LeadCrunch Team :: High precision B2B leads using artificial intelligence
@lead_crunch | 1-minute video | Try us for free | Subscribe to this newsletter